Few annual individual sporting contests in the world can match the continuous history of the Doggett's Coat and Badge Wager, which was founded in 1715 by Thomas Doggett in honour of the accession of King George I. For more than 300 years, this race has run through the centre of London, from London Bridge to Cadogan Pier in Chelsea.
The 7.4km course is a trial of endurance and watermenship and is only open to watermen and lightermen in the first year of their freedom, which means competitors face the tough challenge of studying for their licence while training for the race. Competitors may enter a total of four times (or until they win!) and there are only six spots available. 
WinTech Racing's UK dealer Oarsport have been proud supporters of the race since 2015 and have provided WinTech Racing shells for each competitor to train and race in every year as they compete to win a Doggett's Coat & Badge.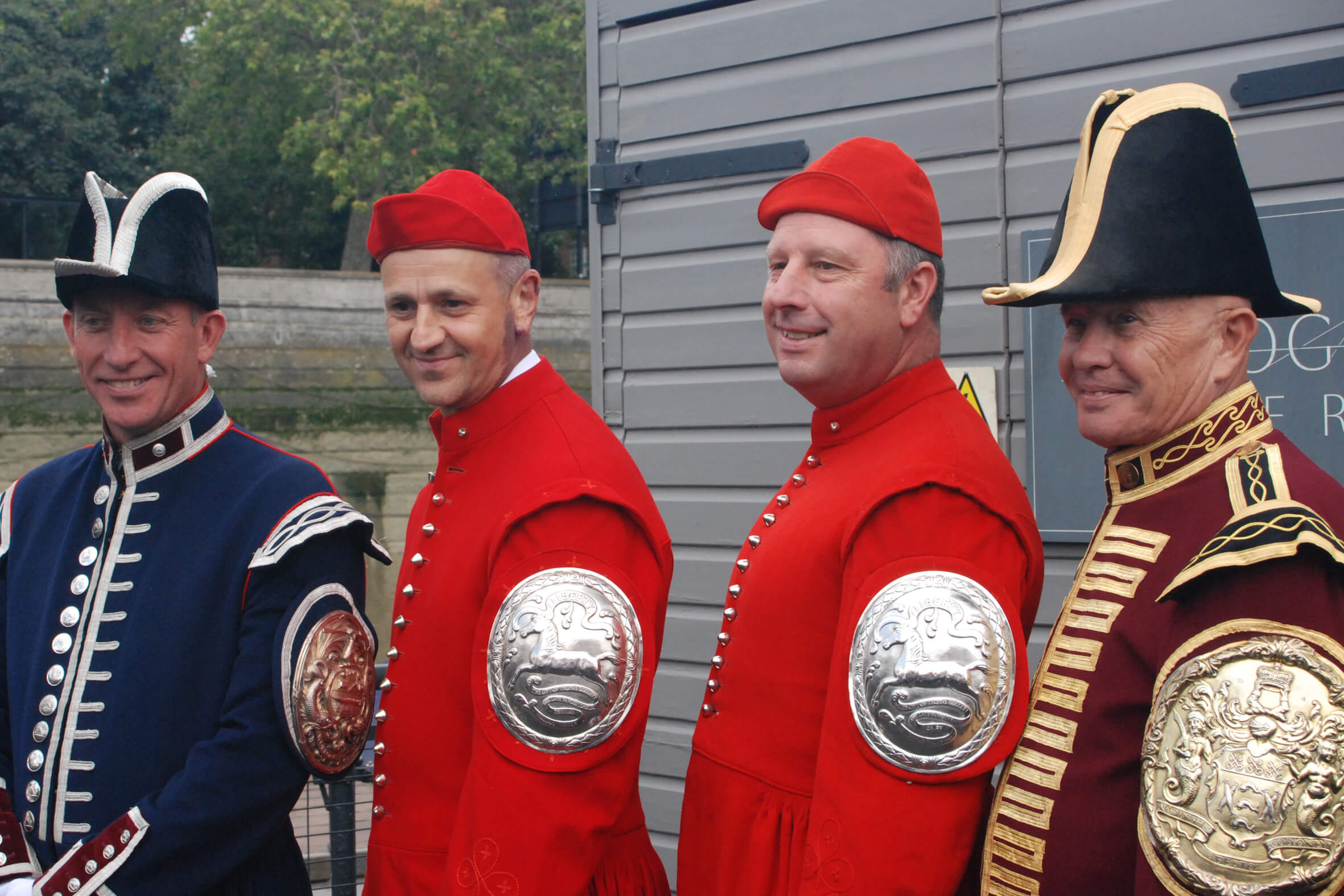 The Doggett's Coat & Badge race returned to the spectacular River Thames in 2023, as it has done since its founding by Thomas Doggett back in 1715 to commemorate the coronation of George 1st. This year's race took on a "coronation to coronation" theme with a particular focus on the ascension of King Charles 3rd, which took place earlier this year. To mark this special occasion, a pageant took place which included previous winners as well as boats including cutters, skiffs, and a Cornish Gig from many of London's Livery companies, which all saluted the racers as they came through the nominal halfway marker in the course.
This year saw three competitors take to the water – Emily Hickman, Matt Brookes and Riess Ballard. 2023 marked only the third time in the race's history that a woman has competed, which signified the historic nature of this year's contest.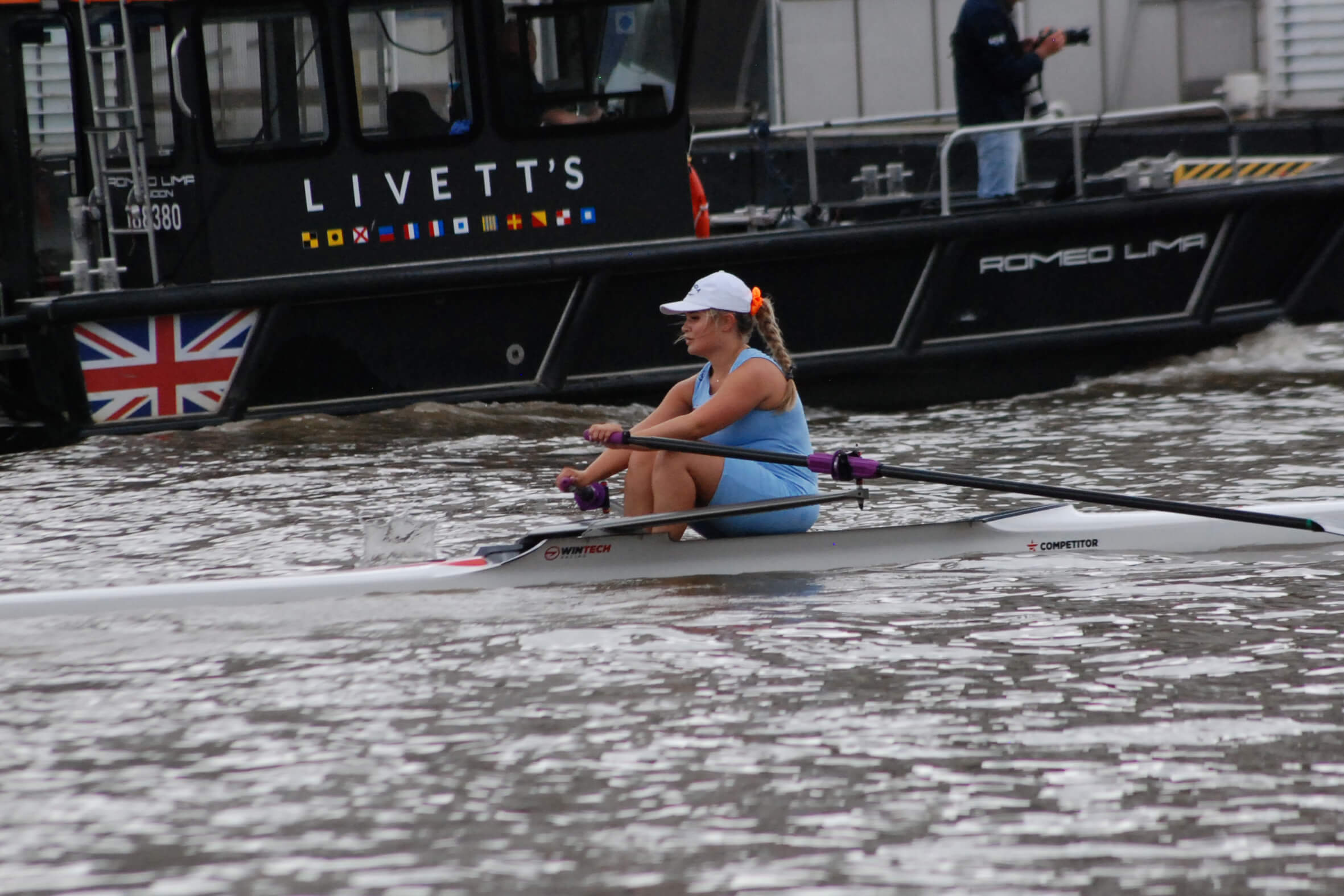 As many rowers and mariners in the Tideway area know, conditions out on the Thames change frequently and without warning. Racing this year was no different with conditions remaining overcast throughout the race, accompanied by spots of rain as competitors and dignitaries neared the halfway point around Westminster. There was also a relatively strong breeze throughout which did nothing to aid the rowers. Some delegates had predicted that this would have adverse effects on at least one athlete, which transpired to be eerily accurate as the race unwound.
One thing to highlight is how challenging the race is in its basic form. The distance is immense at 7.3km, making it one of the longest rowing races in the world. The entire course is tidal, meaning that competitors must cope with currents and weather systems. They are aided by the provision of WinTech single sculls, a long-standing partnership that Team WinTech has with this world-renowned sporting occasion.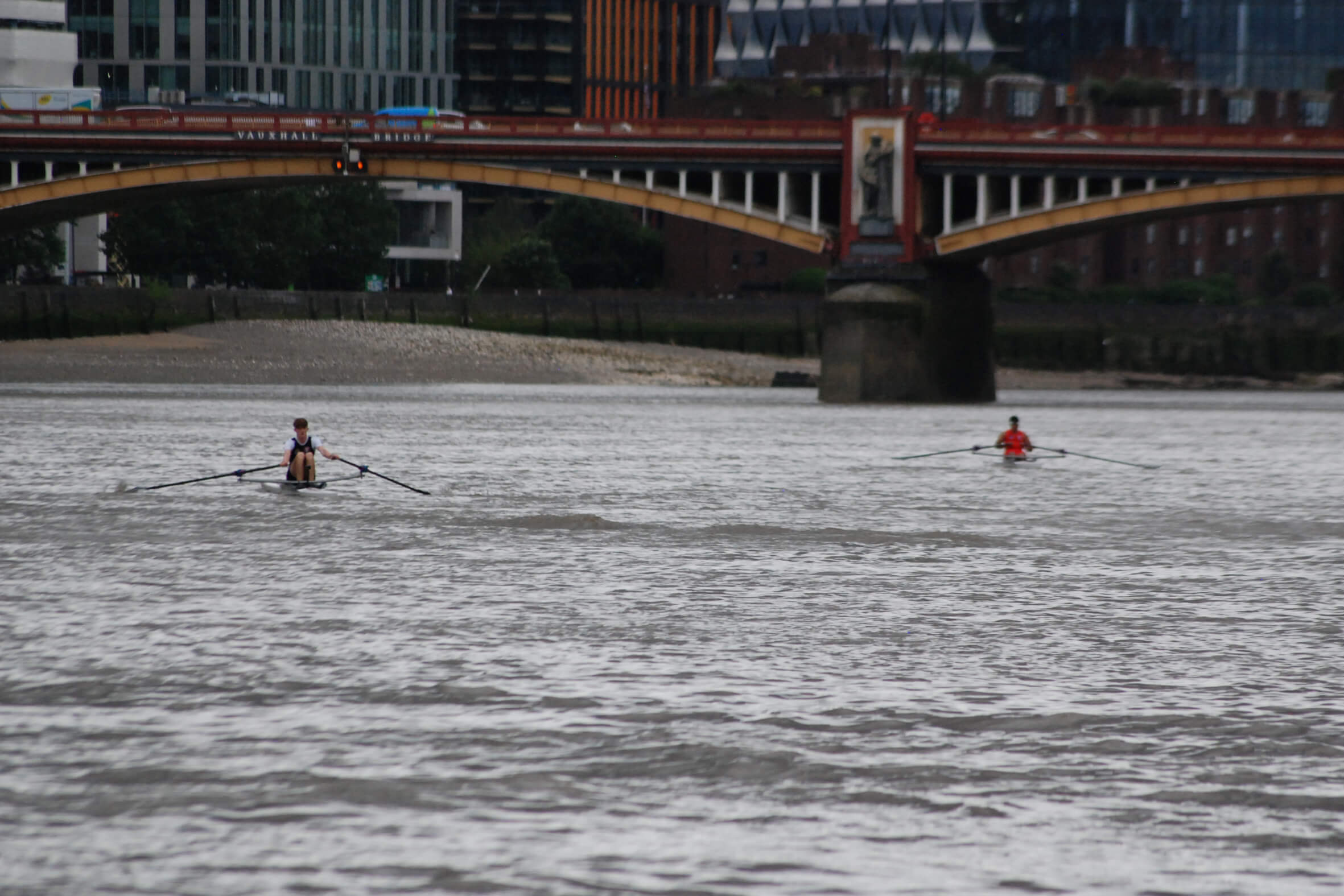 Under the imposing struts of London Bridge, the three scullers lined up to take on the five-and-a-furlong mile course. With a variety of bridges and arches to navigate, competitors can take different routes to the finish line, meaning that almost from the very beginning, the racers spread apart from one another. Emily chose to go down the centre of the river whereas Matt and Reiss chose to focus on the left side of the water. As a result of this, it looked as though Emily was left behind in the early exchanges. She did however find speed and claw back some of the deficit on her opponents after Blackfriars.
Among the delegates and other dignitaries, Riess was a fan favourite but all of the early running was done by Matt, who took a lead of some three or four lengths before Waterloo Bridge that he then maintained beyond Lambeth Bridge. However, with the race twisting past the teeming metropolis of Vauxhall on the left-hand-side bank, Riess sculled himself back into contention and took the lead passing the American embassy. Perhaps flustered by his change in fortunes, Matt took a couple of askew strokes and ended up capsizing into an unforgiving Thames. In doing so, he confirmed the predictions that punters had made pre-race but also revealed the sportsmanship of this historic contest. Both Emily and Riess slowed to check on the welfare of their opponent but, once this had been established, they picked up the pace to close out the final 1000m.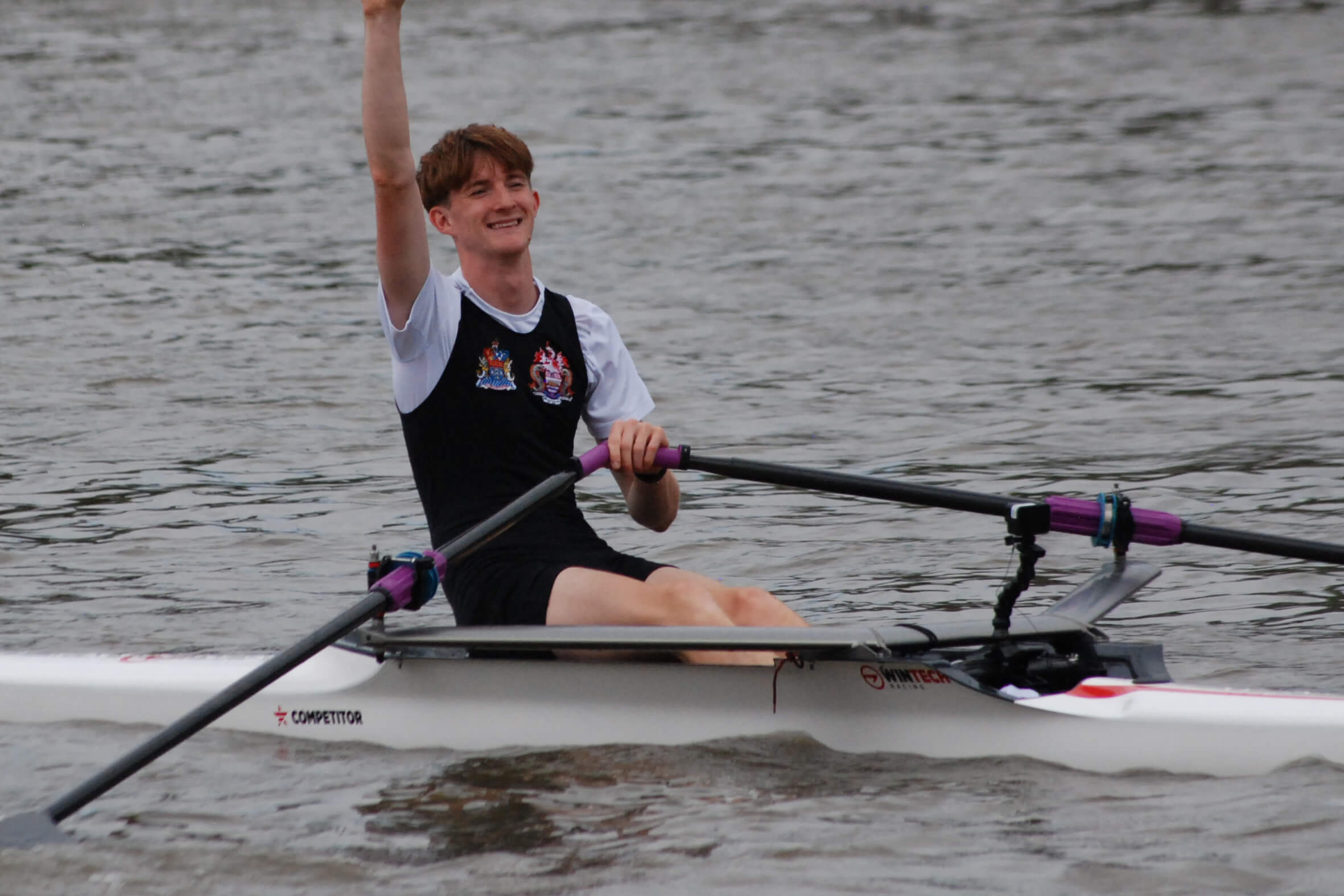 Although it was not her day today, Emily should be highly commended for finishing just over a minute behind Riess, who completed the course in 32:10. All competitors should be congratulated on a wonderful spectacle and WinTech were proud to support this fantastic event once again. We look forward to the 2024 rendition.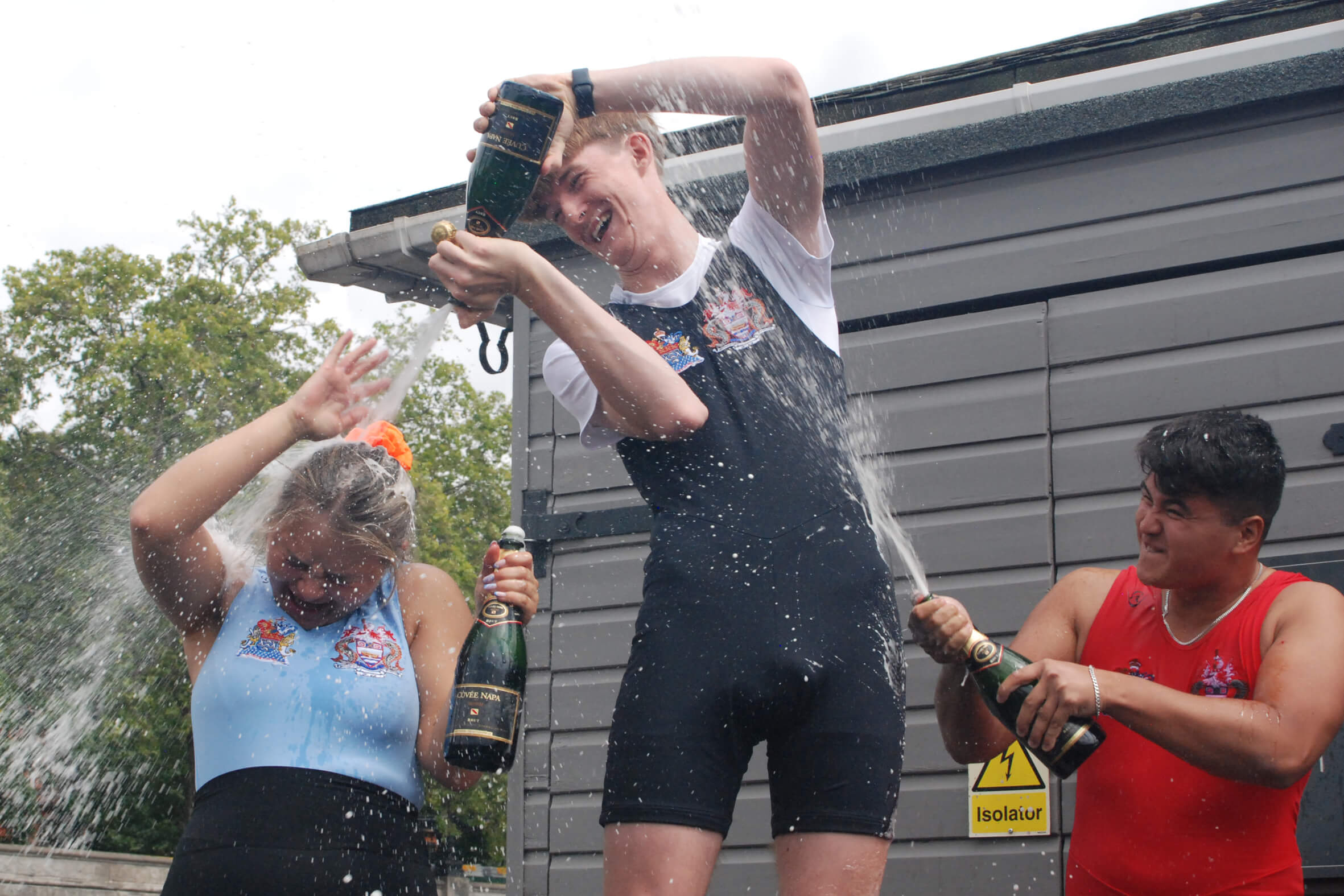 Isn't it time you joined #TeamWinTech
Come and join #TeamWinTech today! Our value goes beyond that of just a great product for a great price.